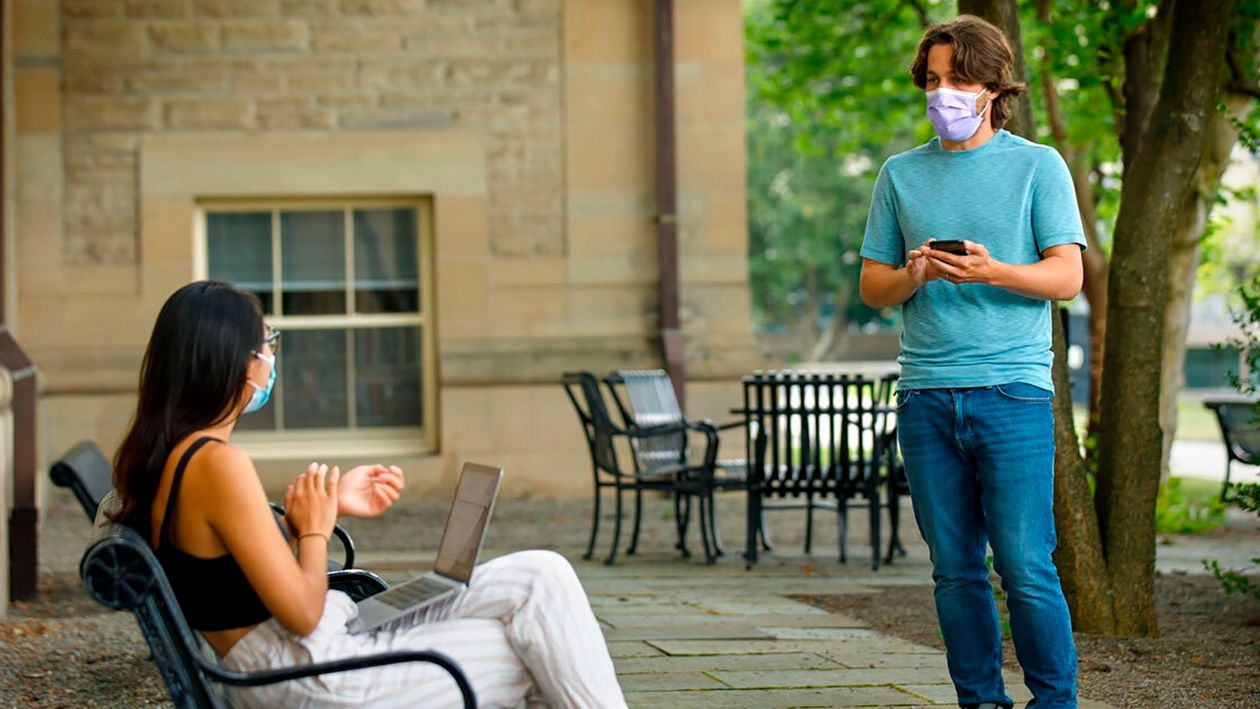 -by Jillian Berman
Christian Baran has been thinking about the value his college tuition is supposed to be buying since the spring.
Baran, 21, was a sophomore at Cornell University when the school, like most others, rushed students home and into online classrooms in March as the reality of the pandemic began to set in. Baran thought his family might get some sort of tuition refund, given that the experience was so different from what he thought his tuition was buying.
"But we didn't get anything," Baran said. Like almost every college in the country, Cornell didn't give back any tuition money, but the school did provide rebates for housing and dining contracts.
Now, as the start of the fall semester at the school approaches, the school is moving forward with a planned tuition increase of 3.6% that was approved in January before the pandemic. Cornell, which is planning to bring students back to Ithaca and offer some in-person classes, is expecting to increase the amount of financial aid it awards, and will be drawing more than typical from its endowment in fiscal year 2021 to generate an additional $15 million.
Still, it's not enough for Baran. "It seems ridiculous to keep paying the same amount for what seems to be an inferior hybridized education," he said. And that's a best-case scenario, assuming the school doesn't end up shifting completely to remote instruction, as some have already done.
So instead of paying Cornell tuition, Baran decided to enroll in community college for the fall semester and hopefully return to Cornell in the spring. "I don't think that it's worth it," he said.
Cornell is one of at least 39 U.S. institutions whose endowments are in the top 100, that is going ahead with a planned tuition increase for undergraduates this upcoming academic year, according to a MarketWatch analysis. We found that 35 others are planning to keep tuition the same as last year and five are discounting tuition from previously announced levels. (Of the other institutions in the top 100 endowments, four are based in Canada, four are institutions serving only graduate students and several did not provide the requested information by press time. We will update when we hear back).
1 Harvard University Increase 4% Rachael Dane, a Harvard spokesperson wrote in an email that "the overwhelming reason for the decision to deliver all instruction remotely is Harvard's commitment to protecting the academic enterprise and preserving academic continuity for all of our students. Continued remote instruction ensures that academic continuity for all students is maintained, even if travel restrictions, visa issues, or health considerations keep them away from campus." The school is also adjusting financial aid by providing a room and board allowance of $5,000 for students living off campus who receive financial aid, among other provisions.
2 The University of Texas System Increase 2.60% The increase was set by the University of Texas System Board of Regents in November 2019 and is based on the rate of inflation per the higher education price index for institutions across the country.
3 Yale University Increase 3.90% In an FAQ page, officials note that first-year students and sophomores who enroll in both the fall and spring semesters, but take at least one remotely, will be eligible to take two summer courses in 2021. "the special arrangement covers tuition for two courses, whether taken in one of the two five-week sessions, or spread out across both, and whether taken on or away from campus, in person or online," the FAQ reads.
4 Stanford University Increase 4.90% In a June message to the university community, Stanford officials wrote. "Anticipating a greater need for financial aid, the trustees approved a 3% increase in payout from endowment funds that support student financial aid. This funding will help Stanford fully cover tuition costs beginning in the 2020-21 year for undergraduate families with annual incomes below $150,000, up from the previous $125,000 threshold."
5 Princeton University Discount 10.00%
6 Massachusetts Institute of Technology Freeze In a July announcement to the university community officials wrote, "tuition will be held at last year's level, eliminating a planned 2020-21 increase announced earlier, and undergraduates will receive a $5,000 grant to offset their annual cost to attend MIT."
7 University of Pennsylvania Freeze In an August message to the university community, officials wrote, "tuition for the fall semester will be rolled back by 3.9%, thus freezing tuition at last year's rate, and the General Fee will be reduced for the fall semester by 10%."
They added that "student financial aid budgets for tuition and general fees will remain at current levels, despite the decrease in cost to students, and students remaining at home will still receive aid for food commensurate with our off-campus dining rate."
8 The Texas A&M University System Increase 2.60%
9 University of Michigan Increase 1.90% — From a tuition FAQ: "The key reason for increasing tuition is inflation and the long-term decline in state funding."
— "This budget includes spending more than $400 million from our endowment, even though the value of the endowment will undoubtedly be diminished by the severe COVID-19 induced economic recession. The budget also calls for using reserves to cover an expected deficit due to the pandemic of at least $19 million."
10 University of California Freeze
11 UNIVERSITY OF NOTRE DAME INCREASE 3.50% IN A JUNE MESSAGE TO THE UNIVERSITY COMMUNITY, OFFICIALS WROTE THAT THEY EXPECTED THAT STUDENTS AND FAMILIES WOULD NEED AN ADDITIONAL $30 MILLION IN NEED-BASED FINANCIAL AID THIS YEAR. ALREADY, A STUDENT RELIEF EMERGENCY FUND HAS RAISED MORE THAN $8.4 MILLION.
12 Northwestern University Increase 3.50% From Northwestern spokesman, Jon Yates: "The University will provide $245 million in aid to undergraduates in 2020-2021, an increase of more than 5% over the current year total. The additional aid will allow Northwestern to provide increased funds for students with demonstrated need and will also support students from middle-income families."
13 Columbia University Information not provided by press time.
14 Duke University (DUMAC, Inc.) Freeze In announcing the decision to rescind a planned 3.9% tuition increase, Duke president Vincent E. Price said: "We recognize that COVID-19 has led to immediate and significant financial stress for our students and families that the university can help address through these changes."
15 The University of Chicago Freeze In announcing tuition in April, University of Chicago officials said: "In response to these challenging times, there will be no increase in the combined total of tuition, housing, and fees for College students in the 2020-2021 academic year."
16 Washington University in St. Louis Increase 3.80% From the school's plan for fall 2020: "Student fees for dining and the housing single room rate will be reduced to reflect the shorter fall semester with final exams being conducted remotely over winter break."
— "Should the university decide that all students should return to their primary residence during the course of a semester as a result of the pandemic or other emergency, the university would provide a prorated refund of room costs to students who were living in Residential Life housing. Students receiving full financial aid would also be eligible for this prorated university housing refund to provide additional support."
— The school is opening applications for its crisis response fund on Sept. 1, 2020
17 Emory University Freeze The school wrote in a statement, "Emory University is holding undergraduate tuition at the 2019-2020 rates for the coming academic year in response to how the COVID-19 pandemic is affecting families financially."
18 Cornell University Increase 3.60% Jonathan Burdick, vice provost for enrollment, in a message to the university community in March: "We know this crisis may have a negative effect on many Cornell students, and we are fully committed to continuing to meet their need. One of the university's top financial priorities in the current circumstance is to make sure that students can get the money they need to begin or continue their studies."
19 The University of Virginia Information not provided by press time 3.60%
20 Rice University Increase 3.70%
21 JOHNS HOPKINS UNIVERSITY DISCOUNT 10% FROM KAREN LANCASTER, UNIVERSITY SPOKESWOMAN: "JOHNS HOPKINS LEADERSHIP UNDERSTANDS THAT THE COVID-19 PANDEMIC HAS CREATED UNEXPECTED FINANCIAL BURDENS FOR MANY FAMILIES, AND THAT THEIR CIRCUMSTANCES MAY HAVE CHANGED IN THE LAST SEVERAL MONTHS. THE UNIVERSITY IS PREPARED TO HELP STUDENTS AND THEIR FAMILIES MEET THESE BURDENS THROUGH A RANGE OF SUPPORTIVE MEASURES."
— IN ADDITION TO THE TUITION DECREASE, THE UNIVERSITY HAS BUDGETED FOR NEARLY $15 MILLION IN ADDITIONAL UNDERGRADUATE FINANCIAL AID "TO HELP FAMILIES WHO ARE FACING FINANCIAL UNCERTAINTY RELATED TO THE PANDEMIC."
22 The Vanderbilt University Increase 3.89% A statement from the university: "Our approach to setting tuition has not changed. COVID-19 has presented new challenges and new opportunities for us as an institution, and we have been able to rise to the challenge."
— "The university also remains committed to Opportunity Vanderbilt, one of the nation's leading financial aid programs that replaces student loans and grants with scholarships. Opportunity Vanderbilt allows the university to have need-blind admissions – accepting students based on merit, not their family's ability to pay. Through Opportunity Vanderbilt, 65 percent of our undergraduates receive financial aid, and 79 percent of undergraduate students graduate without debt."
23 University of Southern California Increase 3.50% Thomas McWhorter, the dean of financial aid, wrote to students in July: "This pandemic has uprooted so many lives and created so much economic devastation in our communities. The challenges are real, and we are doing our best to address your concerns and to keep up with an evolving situation."
— "Students who would have received financial aid for room and board, but who have decided to live at home due to COVID will receive an Undergraduate Living-at-Home Scholarship in the amount of up to $4,000 for the fall semester and up to $4,000 for the spring semester if you remain at home."
24 Dartmouth College Increase 3.90%
25 The Ohio State University Increase 3.90% From university spokesman, Benjamin Johnson: "The new in-state rates only apply to new, first-year students. Returning students from Ohio are covered by the Ohio State Tuition Guarantee. The guarantee provides students with predictability about college costs by locking in-state tuition, mandatory fees, housing and dining for each incoming class of undergraduate students from Ohio. The university will increase financial aid packages for Pell-eligible students so that these students are unaffected by the change."
26 The Pennsylvania State University Freeze Penn State's President Eric J. Barron told the university community following the school's board of trustees' vote to freeze tuition: "Maintaining the accessibility and affordability of a Penn State education are long-term University priorities, and given the current economic hardships induced by the COVID-19 pandemic, it is particularly important that we not raise our tuition rates for the upcoming academic year."
27 New York University Increase 2.95% From NYU spokesman John Beckman: "We expect to spend close to $400 million of institutional funds for undergraduate scholarship (ie, grant) aid in 2020-2021, up nearly $20 million from 2019-2020, and in addition, another $25 million of emergency aid, made up of both federal CARES Act funds (all of which we are directing to student aid) and institutional funds to address the needs of students not eligible for CARES Act funds."
28 University of Pittsburgh Freeze
29 Brown University Increase 3.75% Brown spokesman Brian Clark wrote in an email: "In consideration of the uncertainty caused by the pandemic, we're working to support students through a wide variety of measures, both financial and otherwise."
— Those include expanding the school's financial aid budget, creating new emergency funding sources and supporting undergraduate students with travel, moving and instructional expenses, among other provisions.
30 University of Minnesota & Foundation Freeze
31 UNIVERSITY OF NORTH CAROLINA AT CHAPEL HILL AND FOUNDATIONS FREEZE UNC'S BOARD OF GOVERNORS VOTED IN MAY 2020 TO FREEZE TUITION AT THE SYSTEM'S 16 SCHOOLS FOR THE UPCOMING ACADEMIC YEAR. AT UNC CHAPEL HILL, ACCORDING TO A UNIVERSITY SPOKESWOMAN, THE SCHOOL IS PROVIDING SCHOLARSHIP AID, INCLUDING THROUGH AWARDING CARES ACT FUNDING OF AT LEAST $1,000 TO EVERY STUDENT WHO IS ELIGIBLE FOR CERTAIN SCHOLARSHIPS AND GRANTS, INCLUDING THE PELL GRANT.
32 University of Wisconsin Foundation Freeze
33 Michigan State University Freeze MSU spokesman Dan Olsen wrote in an email: "Throughout the pandemic, MSU has remained committed to its core mission of providing an outstanding MSU education for all students. Regardless of whether classes are remote, in-person or hybrid, the university is delivering courses taught by world-class faculty, and continuing to offer tutoring services, faculty office hours, academic advising and access to our libraries. The value of an MSU degree is significant and the modality of instruction does not reduce that."
34 California Institute of Technology Increase 3.90% In a July message to the university community, officials wrote that students' financial aid offers will be calculated "using a COVID-19 on-campus living allowance of $5,779 per term to help defray living expenses for students even if they live off-campus. Caltech is fully committed to ensuring that our academic programs are accessible to our students during this challenging time."
35 University of Washington Increase 2.40% Victor Balta, a university spokesman wrote in an email: " In general, we have not changed our policies as we prioritize the highest-need students first, but we have used flexibility in our policies to recognize the unique nature of the pandemic." That includes provisions, like not adjusting financial aid packages for room and board funds even when students moved home, "allowing students to keep more funds to help with moving and storage costs or to help their family with rent or food."
36 The President and Trustees of Williams College Discount 15% In a message to the university community announcing the cut, the school's president Maud Mandel wrote: "This reduction recognizes the fact that the pandemic and associated challenges are requiring us to cancel Winter Study as well as fall athletics competition and many student activities, among other opportunities that we usually encourage families to expect as part of their student's education."
37 UCLA Foundation Freeze
38 Purdue University-Purdue Research Foundation Freeze
39 Carnegie Mellon University Increase 3.20%
40 Trustees of Boston College Increase 3.69% Jack Dunn, a university spokesman wrote in an email that "To maintain the University's commitment to providing access to students from diverse socio-economic backgrounds, the trustees voted to increase need-based undergraduate financial aid by four percent, or $5.6 million, to a total of $146 million."
41 UNIVERSITY OF RICHMOND INCREASE 3.95% CYNTHIA PRICE, A UNIVERSITY OF RICHMOND SPOKESPERSON, WROTE IN AN EMAIL THAT THE SCHOOL'S PRESIDENT AND EXECUTIVE VICE PRESIDENTS HAVE ALL TAKEN A 10% PAY CUT AND THAT ALL VICE PRESIDENTS HAVE TAKEN A 5% PAY CUT. IN ADDITION, THE SCHOOL HAS IMPLEMENTED A HIRING FREEZE.
42 Indiana University and Foundation Freeze Chuck Carney, a university spokesman, wrote in an email that the school is offering a discount on fees to students whose courses are entirely online, so that they won't be paying for services they won't use. "We have been and continue to take a number of steps in support of students during this time," Carney wrote, including spending $31 million in CARES Act funding on financial aid for students across IU's campuses.
43 Amherst College Information not provided by press time
44 University of Illinois & Foundation Increase Between 1% and 3.5% depending on the campus A University of Illinois spokesperson wrote in an email that "follow a five-year tuition freeze for in-state students and are needed to fund faculty additions that lagged behind seven straight years of enrollment growth." In addition, the system has launched a fund to provide at least $36 million to help students with COVID-related costs and will cover this year's tuition increase for all in-state students.
45 Pomona College Freeze In an emailed statement, Robert Goldberg, vice president, chief operating officer and treasurer, wrote that the freeze is "in recognition that the economic downturn has impacted students and their families due to the pandemic. " The school is also providing financial aid to cover off-campus attendance for eligible students, converting a portion of the student employment allotment of financial aid packages to grants for some students and providing technology resources to those who request assistance, he wrote. "Pomona is redirecting resources to ensure that our online education will be every bit as engaging and challenging as always but adapted to our times."
46 Boston University Increase 3.90% The university expanded its financial aid program to meet the full need for all students who qualify for financial aid, the school announced last year.
47 The Rockefeller University Graduate university only It's a private graduate university, so probably not relevant here.
48 University of Rochester Increase 3.90% Sara Miller, a university spokeswoman wrote in an email that, "Although a student may not return to campus, the cost of their education doesn't go down. This is because the many new protocols to ensure health and safety measures during the pandemic have actually caused the cost to provide a University of Rochester education to increase." In addition, students who are not living on campus won't pay room and board.
49 Wellesley College Increase 4.20% From Wellesley's coronavirus page: "We understand that students and their families may be experiencing financial challenges, and we affirm our commitment to meeting students' full calculated financial need." Students who aren't living in college housing won't be paying room and board. For students receiving financial aid, the school has replaced the contribution of summer work with grant aid.
50 Georgia Institute of Technology and Related Foundations Freeze
51 SWARTHMORE COLLEGE FREEZE IN A JUNE MESSAGE TO THE UNIVERSITY COMMUNITY, SWARTHMORE'S PRESIDENT, VAL SMITH, WROTE, "IN ACKNOWLEDGMENT OF DISRUPTION BROUGHT ABOUT BY COVID-19, WE ELIMINATED THE PLANNED TUITION INCREASE FOR THE 2020–21 ACADEMIC YEAR AND INSTEAD SET TUITION AT THE SAME RATE AS THE 2019–20 ACADEMIC YEAR."
52 University of California, Berkeley Foundation Freeze
53 Trustees of Grinnell College Increase 4.30% In a page outlining the school's financial investment in light of COVID, Grinnell notes that the school awarded every student a $2,500 COVID-19 response grant for the academic year. "The value of our grant exceeds this year's tuition increase and represents a $4 million investment in additional grant aid," the page reads. The school has also set aside more than $2 million in additional financial aid.
54 Virginia Commonwealth University Freeze In an email, Michael Porter, a VCU spokesperson wrote that the school's board of visitors voted in May to freeze tuition and increase fees by $56. The school received about $10 million in CARES Act funds that was distributed to eligible students. "Students impacted by COVID-19, but not eligible for federal funds, may also be eligible for emergency funding that is being offered through Student Affairs, " he wrote.
56 Smith College Freeze The freeze is a reversal of a planned increase
57 Tufts University Increase 3.80% Patrick Collins, a university spokesman, wrote in an email that, "in the face of the financial challenges posed by the pandemic, Tufts has reaffirmed its commitment to meeting the full demonstrated financial need of all admitted and current students, continuing as one of the few colleges and universities in the country to do so." The university is planning for an increase in financial aid of about 9%.
58 Case Western Reserve University Increase 3.96%
59 University of California San Francisco Graduate university only
60 University of Florida Foundation, Inc. Information not provided by press time
61 Georgetown University Discount 10.00% In announcing the tuition cut, the school's provost, Robert M. Groves, wrote "In recognition of the impacts of this decision, all students in credit-bearing undergraduate and graduate courses, will be offered a tuition discount." The announcement came shortly after the school announced it would be holding classes remotely.
62 THE KANSAS UNIVERSITY ENDOWMENT ASSOCIATION FREEZE IN ANNOUNCING THE TUITION FREEZE IN JUNE, SHANE BANGERTER, THE CHAIR OF THE KANSAS BOARD OF REGENTS, SAID "OUR INSTITUTIONS ARE FACING INCREDIBLY DIFFICULT CHOICES AS A RESULT OF THE COVID-19 PANDEMIC. IN THE FACE OF REVENUE LOSSES, INCREASED COSTS AND CONTINUED UNCERTAINTY, UNIVERSITIES MADE GREAT EFFORTS TO ENSURE THAT STUDENTS DO NOT BEAR THE COST."
63 The George Washington University Discount 10.00% The cut is for undergraduate students at their Foggy Bottom campus who won't be living there. The school is holding all of its undergraduate courses online. In announcing the tuition cut and shift to remote instruction, school officials said: "We recognize, however, that many undergraduate students will not have access to certain in-person resources they would have had as residential students. And we further recognize that the pandemic has caused unprecedented financial dislocation for many members of our community."
64 Bowdoin College Freeze In a message to the university community in June, Clayton Rose, Bowdoin's president, said "As an acknowledgment of the challenging economic times faced by virtually all families, there will be no increase in the comprehensive fee or tuition for the Fall 2020 semester over what was charged in 2019–2020."
65 University of Missouri Increase 2.30% In announcing the tuition increase, Mun Choi, University of Missouri system president said, "with this small increase, the UM universities remain among the lowest in tuition increases throughout the country. These increases do not fill the gaps in revenue the university has experienced, but they will help us maintain our commitment to teaching excellence. We are focused on achieving our missions of teaching, research, service and economic development while reducing our costs."
66 Texas Christian University Increase 4.90% In a July message to the university community, the school's chancellor, Victor J. Boschini, Jr., wrote that TCU's board of trustees, "unanimously approved $50 million in additional financial aid assistance for the fall semester for students whose courses have been designated online by the University and up to $15 million for students who qualify for need-based aid."
67 Washington and Lee University Increase 4.50% Drewry Sackett, a university spokesperson, wrote in an email that the tuition decision "was made at our February Board of Trustees meeting and has since been reviewed as part of our planning for reopening the campus for the Fall Term." In addition, the school is working to cut costs by reducing departmental budgets by 10% and reducing retirement contributions by 2.5% for the upcoming academic year.
68 Southern Methodist University Increase 3.50% This year the school is seeing the number of families qualifying for financial aid and the size of the grants they're receiving increasing because of the pandemic, a spokesperson wrote in an email. In addition, donors have committed nearly $1.6 million to a new fund specifically to help returning students who might not be able to graduate without emergency funding and scholarship awards.
69 Liberty University Information not provided by press time
70 University of Iowa & University of Iowa Center for Advancement Freeze In announcing the tuition freeze, the school's office of strategic communications noted that Board of Regents, State of Iowa, which sets tuition, may reevaluate tuition for this spring in fall 2020 and that "that tuition and fee decisions, which may depart from the five-year tuition model established last year, will be made to give as much financial predictability to students and families as possible amid the uncertainties of the COVID-19 pandemic."
71 The Board of Trustees of the University of Alabama Freeze
72 RUTGERS, THE STATE UNIVERSITY OF NEW JERSEY FREEZE A UNIVERSITY SPOKESPERSON WROTE IN AN EMAILED STATEMENT THAT THE SCHOOL WOULD ALSO CUT CAMPUS FEES 15%: "THE RUTGERS BOARD OF GOVERNORS TOOK THE UNPRECEDENTED STEP OF FREEZING TUITION AND FEES FOR THE 2020-2021 ACADEMIC YEAR. THIS ACTION WAS TAKEN IN RECOGNITION OF THE ECONOMIC STRESSES THAT CONFRONT EVERY MEMBER OF OUR COMMUNITY AND DESPITE COST INCREASES IN VIRTUALLY EVERY AREA OF OUR OPERATION."
73 University of Delaware Freeze Andrea Boyle Tippett, a university spokeswoman, wrote in an email that the school has dedicated roughly $20 million in additional financial aid funds this year "to ensure students can attend our institution despite the tough financial situations many have found themselves in because of the pandemic."
74 University of Cincinnati Information not provided by press time
75 University of Colorado Foundation Freeze Ken McConnellogue, a university spokesman, wrote in an email that the school is "working on ways to direct more financial aid to students and families most affected by COVID. Our Board of Regents has asked for a plan to reach that end, which is in process."
76 University System of Maryland Foundation Freeze In announcing the tuition freeze, the University of Maryland System's Board Chair Linda Gooden said, "Our students worked hard to adjust to the unexpected changes brought on by the pandemic while also completing their academic work—they 'pushed through' these challenges all the way to the final weeks of the 2020 spring semester. The board's decision today allows the system to show support for our students and families by holding tuition and room-and-board rates steady so they can better navigate what we know for many has been great economic hardship.
77 University of Nebraska Board of Regents Increase 3.50% Leslie Reed, a university spokesperson, wrote in an email that "This increase was established by the Nebraska Board of Regents in 2019 for the current two-year budget period and scholarship and financial aid already has been budgeted toward for students." In addition, she noted that the school began its Nebraska Promise program in April 2020, which covers tuition for students whose families are earning less than $60,000 per year. The program resulted in a $2 million increase in the financial aid budgeted to students who attend the University of Nebraska-Lincoln, the flagship campus.
78 Tulane University Increase 3.60% Michael Strecker, a university spokesman, wrote in an email that "Tulane continues to provide a very robust array of institutional scholarship programs to assist our students with their educational costs. In response to the ongoing pandemic, Tulane created a financial aid program to assist those students whose families have experienced economic hardships, especially significant income losses during the current 2020 calendar year directly due to the coronavirus."
79 Lehigh University Freeze In a July message to the university community, officials wrote that "Because of the economic impact of the pandemic on families across the country, Lehigh will hold tuition at the 2019-2020 rate and reverse the increase that we announced in the Spring."
80 University of Kentucky Increase 1% for in-state students, 2% for out-of-state students
81 NC State University and Related Foundations Freeze
82 SYRACUSE UNIVERSITY INCREASE 3.90% IN AN EMAILED STATEMENT, SARAH E. SCALESE, SENIOR ASSOCIATE VICE PRESIDENT FOR COMMUNICATIONS, DIVISION OF MARKETING AND COMMUNICATIONS AT SYRACUSE, WROTE THAT THE SCHOOL WILL BE INCREASING ITS FINANCIAL AID BUDGET BY 7% FROM LAST YEAR. "WE APPRECIATE HOW DIFFICULT IT IS FOR OUR STUDENTS AND THEIR FAMILIES TO NAVIGATE THE UNCERTAINTY AND UNIQUE STRESSORS PRESENTED BY THE PANDEMIC AND SYRACUSE UNIVERSITY IS DOING EVERYTHING IT CAN TO LIMIT THE FINANCIAL IMPACT."
83 Wake Forest University Information not provided by press time
84 Virginia Tech Foundation Freeze
85 The University of Tennessee Freeze In announcing the tuition freeze, University of Tennessee President Randy Boyd said, "our students and their families are struggling right now, many financially. Our chancellors and I strongly believe that we need to do everything we can to provide them the support they need to continue their education at UT, and to make our University as affordable as possible for our incoming students."
86 The University of Georgia and Related Foundations Freeze In announcing the tuition freeze, Steve Wrigley, the chancellor of the University System of Georgia said, "One of the University System of Georgia's top priorities is affordability, and that has never been more important than now for our students and their families."
87 Baylor University Increase 4% In an email, Lori Fogleman, a university spokeperson wrote that the tuition increase was decided more than a year ago. A Baylor page announcing the increase states, "This represents the lowest percentage tuition increase in more than 20 years and is well below the average percentage increase over the last 26 years." Fogleman added, "we understand that many families are facing financial challenges due to COVID-19. We are in the process of reviewing students' financial aid files upon request."
89 Texas Tech University System Increase 2.4-2.6% The Texas Tech Board of Regents made the decision to raise tuition in December 2019, according to Chris Cook, a Texas Tech spokesman. The increase is in line with the Higher Education Price Index, which tracks cost drivers in higher education. The school has extended scholarship deadlines as well as encouraged families to complete the financial aid special circumstances process if their financial situation has changed.
90 Baylor College of Medicine Graduate university only Not an undergrad institution so probably not relevant
92 Trinity University Information not provided by press time 4% Based on my own calculation using only tuition and fees
94 Saint Louis University Information not provided by press time There are so many different schools and there's no announcement on their approach to tuition this year.
95 THE UNIVERSITY OF UTAH DECISION NOT FINALIZED THE UTAH BOARD OF HIGHER EDUCATION VOTED IN LATE MARCH TO AUTHORIZE A 2% INCREASE IN TUITION AT THE UNIVERSITY OF UTAH FOR THE UPCOMING ACADEMIC YEAR. THE UNIVERSITY IS NOT IMPLEMENTING THAT TUITION INCREASE IN FALL 2020 AND HAS NOT YET MADE A DECISION ABOUT WHETHER THEY WILL IMPLEMENT THE INCREASE IN SPRING 2020. THE UNIVERSITY OF UTAH IS ALSO PROVIDING STUDENTS WITH A $150 CREDIT — OR A 25% DISCOUNT — ON THEIR FEES FOR FALL 2020.
96 University of Arkansas, Fayetteville, and Foundation Freeze John Thomas, a University of Arkansas spokesperson, wrote in an email that the school has added $5 million in scholarships for in-state students this year, established a student emergency fund and considering the effects of COVID-19 in appeals for funding through the Arkansan Non-Resident Tuition Award Scholarship, which pays for the majority of the difference between in-state and out-of-state tuition.
97 Berea College Students don't pay tuition here They don't pay tuition at Berea
98 Middlebury College Increase 3.73% The increase was approved in February 2020
99 Princeton Theological Seminary Graduate institution only
100 Vassar College Information not provided by press time
Tuition cuts are rare, but it's also an extraordinary year
That some schools are discounting tuition represents an extraordinary break from colleges' typical policies — college costs have skyrocketed 161% over the past 30 years and between the 2009 and 2010 academic year and the 2019 and 2020 academic year colleges increased tuition nearly 2% on average per year, according to the College Board.
But this is also an extraordinary year. A global pandemic and accompanying economic downturn has made it more difficult for many families to afford college. At the same time, the pandemic has changed what families are paying for. Under the best of circumstances, students will return to campuses devoid of many of the usual college activities — spontaneous meetings in the student union, robust club events, and yes, parties.
And if the experiences of schools that have already brought students back is any indication, those plans are likely to go awry, forcing students into even more restricted environments or sending them home.
These dynamics stretched colleges' business models, which had been showing signs of weakness for years. "Generally speaking, the pandemic is not going to create a significant shift in the price of tuition," said Dominique Baker, an assistant professor of education policy at Southern Methodist University.
That's because colleges lost housing, dining and other revenue when they sent students home this spring and, in addition, they've had to spend more on technology, plexiglass and other adjustments to make a fall semester work, Baker said. Schools will also lose funds if enough students decide to take a gap year and enrollment dips significantly.
"The only ways to try to make this up are to hold on to revenue streams you already have because if you don't do that this leads to massive furloughs and layoffs, among other cost cutting measures," she said.
Colleges begin thinking about tuition policy months in advance
Colleges usually begin thinking about their tuition strategy in the fall of the previous academic year, said Jim Hundrieser, the vice president for consulting and business development, at the National Association of College and University Business Officers.
They typically start by thinking about what increased costs they will have and whether those will be one-time costs or fixed costs, he said. Colleges have looked for ways to cut some of their typical costs this year, including furloughing employees, freezing pay and limiting retirement contributions, but many of their largest fixed costs, like faculty salaries and health care remain large and possibly growing.
Schools will also look to see whether they expect sources of revenue other than tuition to be able to cover some of these costs, Hundrieser said. Philanthropy, one of the typical sources of revenue for schools, is likely to be down this year if previous downturns are any indication.
Colleges will also turn to their endowment to cover expenses, typically drawing around 4% per year from the fund, Hundrieser said. But it can be difficult to tap the endowment for more than officials initially planned because the funds are often restricted and because the idea behind the endowment is to make sure the university runs in perpetuity, Hundrieser said.
"Endowments aren't just one pot of money, they're a bunch of small pots of money," said Robert Kelchen, an associate professor of higher education at Seton Hall University. "Colleges don't like spending large amounts of money out of an endowment in any given year," Kelchen said. "On the other hand, the endowment is also there for a rainy day and it's pouring right now."
Perhaps one of the biggest factors driving a college's tuition policy is how much money they're going to give away, Hundrieser said. At private schools in particular, most families don't pay a college's advertised or "sticker" price.
Instead, they get a discount. The average discount rate — or the amount of grant aid colleges offer as a percentage of their tuition and fee revenue — for the 2019-2020 academic year was 47.6% according to NACUBO.
Families don't learn what kind of discount they'll receive until a student applies, gets accepted and receives a financial-aid package from their school. Often, colleges award these scholarships based on financial need, but in some cases, colleges use what's called merit aid — or scholarships for good grades or other characteristics — to lure families who can afford to pay the full, or near full sticker price and will be persuaded to sign the check if they believe they're getting a deal.
'This is the question many, many chief finance officers are asking and really beginning to evaluate — if we're just going to raise [tuition] and give it all away what's the point?'— Jim Hundrieser, vice president for consulting and business development at the National Association of College and University Business Officers
This high-tuition, high-aid strategy started to ramp up in the wake of the Great Recession and some institutions are growing more skeptical of it, Hundrieser said. "This is the question many, many chief finance officers are asking and really beginning to evaluate — if we're just going to raise [tuition] and give it all away what's the point?" he said.
The strategy also puts strain on families, particularly low-income families who see a college's high five-figure sticker price and immediately dismiss it as a possibility, said Mark Huelsman, associate director of policy and research at Demos, a progressive think tank.
In addition, many of the schools with the most generous financial-aid packages for low-income students, don't educate a large share of the low-income student population, he said. Even as most colleges have increased their financial-aid budgets during the pandemic, the messaging of the sticker price is still important, he said.
'Imagine any financial transaction you make and someone says the price of this thing is $100,000, but you are very likely to pay nothing, but first you have to fill out all these forms.'— Mark Huelsman, associate director of policy and research at Demos
The focus on discounting can also make it difficult for colleges to reverse course once they've made a tuition decision, Hundrieser said, because they've already awarded the aid they're going to give out and tweaking tuition will affect the amount of revenue they bring in. Still, some schools have been able to make changes in light of the pandemic.
Some schools have been able to offer tuition cuts
At Hampton University, a Historically Black College in Hampton, Va., the school's president, William Harvey, announced in early July that the school would offer only remote instruction in the fall and a 15% discount on tuition and fees.
"This is going to be a financial burden for us, but it's also a financial burden for parents and others," Harvey said he remembers thinking as he weighed and investigated the idea of a tuition cut with other university officials.
Ultimately, he decided to go through with it and one of the reasons Hampton was able to do so is because the school is "pretty financially sound," Harvey said. Though not in the top 100, the school's endowment has grown over the past several decades and is now worth more than $250 million. Resources like an enrollment stabilization fund and a real-estate foundation, help too, he said.
In addition, after the school made the decision to cut tuition, they received a "god-given gift," from MacKenzie Scott, Jeff Bezos' ex-wife, of $30 million, Harvey said. Those funds can be used at the discretion of the president, he said, and the school plans to use part of the money to help mitigate the financial impact of the tuition cut.
Daniel Kim, a senior at Duke University, started an online petition last month asking his school to decrease tuition after he saw that at some other schools where petitions circulated, officials cut the sticker price. In early August, Duke announced that, instead of increasing tuition 3.9% as originally planned, it would freeze tuition at $55,880 and adjust certain fees based on where students plan to live this fall.
Duke invited freshmen and sophomores back to on-campus housing this fall and is hoping to bring juniors and seniors back in the spring, according to Erin Kramer, a Duke spokesperson. The school is offering a mix of in-person, remote and hybrid classes. Right now, Kim is planning on taking his classes from his childhood home in Northern Virginia.
Daniel Kim started a Change.org petition asking for his school, Duke University, to reduce tuition. Kim, who is majoring in theater and minoring in biology and cinematic arts, wasn't pleased with his remote courses in the spring. "I kept pounding my head against the floor, group chats were popping during it." he said. But at least so far, his classes this semester have been satisfactory. "I'm hoping just to grind it out."
Annisa Salsabila, a sophomore at the University of Texas, is skeptical she'll get the value she's paying for from her courses. The 19-year-old is a neuroscience major and won't have access to the labs and research experiences she would under typical circumstances.
UT is offering some courses in person, but is also giving students the option to take all of their courses online, which Salsabila is electing to do because she believes it's the safest option.
At UT, tuition will be 2.6% higher this fall than last year, an increase approved in November 2019 by the University of Texas System Board of Regents. The uptick is based on the rate of inflation per the higher education price index, according to a spokeswoman, an inflation index that tracks the cost drivers of higher education.
"The cost of education is a major concern for students and families, more so now than ever," J.B. Bird, a UT spokesperson, wrote in an email. "We have focused our fall planning efforts to deliver an exceptional educational experience while also maintaining the health and safety of the UT community."
Still, to Salsabila the increase feels "ridiculous." She expects to borrow more in student loans to cover the uptick. "It just places more financial burden on me and my family in the long run," she said.
Public colleges don't have complete control over their tuition policies
Like many public colleges, UT is governed by a board of regents, whose members are appointed by the governor. At some public colleges, the governing board is actually elected by the state's voters. Either way, state leadership does play a role in how public colleges set their tuition, though there's often a back and forth between the school and legislatures.
If the last recession is any indication, public colleges will likely face cuts in the funding they receive from the state lawmakers, a factor which could push them to look for money from other sources — like students' and families' pockets. At the same time, these schools may face pressure from state legislatures to keep tuition low.
That dynamic could exacerbate inequities already present in our higher-education system. Public colleges, particularly regional state schools and community colleges, that are likely to face funding challenges over the next few years, are also those that serve the bulk of the country's low-income and Black and Hispanic students, Huelsman said.
"At the same time you have institutions that not only can weather the storm because of their own resources — whether that's an endowment, or a brand name or a demand for their services — that they feel like they don't have to respond to the economic pain facing a lot of Americans," he said, "the families and the students who are most impacted by the economic crisis were more likely to go to colleges that were also more impacted by this economic crisis."
Though we're unlikely to see broad cuts in tuition in the years following the pandemic, it's possible that some, individual students could get a break, Kelchen said. Colleges were already bracing for demographic trends that mean there will be fewer 18-year-olds heading to college in the coming years and the pandemic will only exacerbate colleges' hunger for students.
"If you can get students to pay that full price, there's less of a reason for you to cut that listed price because you're giving up revenue," he said. "It's easier for colleges to give discounts to those who ask."