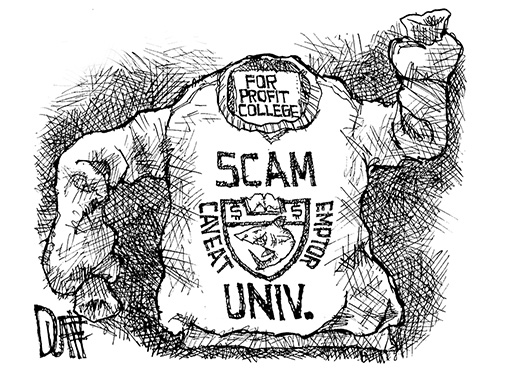 -official collegiate sportswear of scamU!!!!
-by Mark Huffman
"The problems students have had with some for-profit school are well documented. Remember Corinthian College?
You don't have to have a long memory. In September 2014 the U.S. government sued the for-profit college for what it called an illegal predatory lending scheme.
The Consumer Financial Protection Bureau (CFPB) charged that Corinthian lured tens of thousands of students to take out private loans to cover expensive tuition costs by advertising bogus job prospects and career services. To make matters worse, CFPB said Corinthian then used illegal debt collection tactics to strong-arm students into paying back those loans while still in school.
Before it declared bankruptcy and closed less than a year later, thousands of students had borrowed huge sums to attend, with nothing to show for it.
Proactive move
Now, the Department of Education wants to make sure potential train wrecks like Corinthian cross its radar screen before consumers have been harmed. It has announced creation of a Student Aid Enforcement Unit to respond more quickly and efficiently at the first suggestions of trouble.
"When Americans invest their time, money and effort to gain new skills, they have a right to expect they'll actually get an education that leads to a better life for them and their families," Acting Secretary of Education John B. King Jr. said in a release. "When that doesn't happen we all pay the price. So let me be clear: schools looking to cheat students and taxpayers will be held accountable."
To head up the unit, Robert Kaye is coming over from the Federal Trade Commission (FTC), where he was a top enforcement attorney.
Four divisions
The new unit will have four divisions that will perform special roles. The Investigations Group will be the early warning system, on the lookout for potential misconduct or high-risk activity among higher education institutions so that it can protect federal funding.
The Borrower Defense Group will provide legal support, It will analyze claims and make injury determinations.
The Administrative Actions And Appeals Service Group will impose administrative actions, such as suspending an institution and levying a fine. It will also try to resolve appeals by program participants.
The Clery Group will make sure for-profit colleges comply with the Jeanne Clery Disclosure of Campus Security Policy and Campus Crime Statistics Act, requiring colleges and universities participating in federal financial aid programs to disclose campus crime statistics and security information."