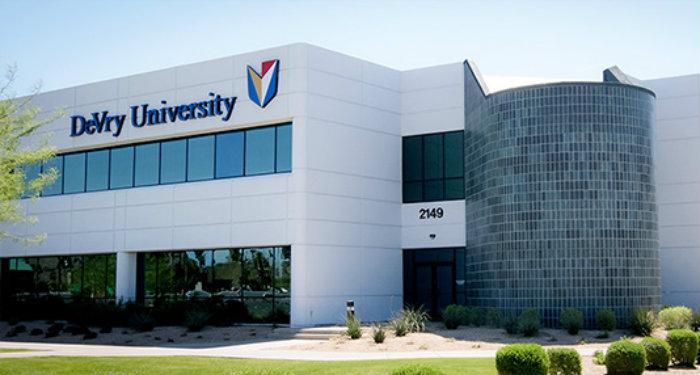 Promises that students would find jobs in their field didn't pan out, FTC suit alleges
DeVry University is the latest for-profit college to run afoul of regulators. The Federal Trade Commission has sued DeVry, alleging that its advertisements deceived consumers about the likelihood that students would find jobs in their fields of study and would earn more than those graduating with bachelor's degrees from other colleges or universities. DeVry said it will "vigorously fight" the complaint.
"Millions of Americans look to higher education for training that will lead to meaningful employment and good pay," said FTC Chairwoman Edith Ramirez. "Educational institutions like DeVry owe prospective students the truth about their graduates' success finding employment in their field of study and the income they can earn."
In its complaint, the FTC says DeVry claims that 90% of graduates landed jobs in their field within six months — a claim the feds say is deceptive. The suit also alleges DeVry's claim that its graduates had 15% higher average incomes one year after graduation than the graduates of all other colleges or universities was deceptive.
Melanie of Suamico, Wisconsin, recently recounted her experience with DeVry in a ConsumerAffairs review.
"When I graduated in 2010 with a computer bachelor's degree I was excited to get my job and start my career. Well I was fooled," she said. "I got no help from the school (even though I asked for help), I put in hundreds of resumes/apps on my own and got nothing. It is almost like the companies look at the degree that says DeVry on it and they run the opposite direction. I was thinking that I was doing something wrong, but the only thing I did wrong was trust that DeVry would help me get a job."
DeVry says it will "vigorously fight" the charges. "DeVry University measured the employment and earnings results of its graduates in a sound, rational and transparent basis," the company said in a prepared statement.
"DeVry Group believes that the FTC's complaint – filed 40 years after DeVry University began publishing accurate graduate employment statistics – is without a valid legal basis. In addition, the FTC's complaint contains anecdotal examples that exaggerate the allegations but do not prove them," DeVry said. "DeVry University measures the employment and earnings results of its graduates on a sound, rational and transparent basis, and has published these results in a consistent manner over the years to provide students meaningful information."
The FTC's suit notes that a DeVry television ad showed people in business attire hanging hundreds of "offer letters" on a wall, with a voiceover that said all of the offer letters seen came from just the last year – followed by the 90% claim. The complaint alleges that DeVry counted numerous graduates as working "in their field" when they were not.
That might sound familiar to Gary of Wappingers Falls, N.Y., who said that despite getting his degree and going $62,000 in debt, he has been unable to find a job.
"When I joined the college they stated that they had a 92% placement for graduates within 6 months in their field of study," he said. "If I could trade my worthless degree for satisfaction of my student debts, I would do it in heartbeat."
"The college was no help in setting me up with any interviews, they only looked at my resume and made suggestions. I have been on my own since I graduated and have had no luck," Gary added. "I currently work as a courier to pay my bills, which I could have done without a college degree."
DOE action
In a related action, the U.S. Department of Education is also taking action against DeVry for its marketing practices. It is providing notice to DeVry that it will be requiring the institution both to stop certain advertising regarding the post-graduation employment outcomes of its students and to take additional steps to ensure that DeVry can substantiate the truthfulness of its post-graduation employment outcomes.
"As required by the law and expected by the public, institutions need to be accurate in their marketing and recruiting to prospective students. And we confirm this truthfulness of advertisements through the backup information schools provide upon request," said Under Secretary of Education Ted Mitchell. "The Department and the FTC's related announcements today are the result of much collaboration and cooperation. We are grateful to our partners at the FTC for their hard work and dedication on this matter."